Paul Griffiths - Defender (CB)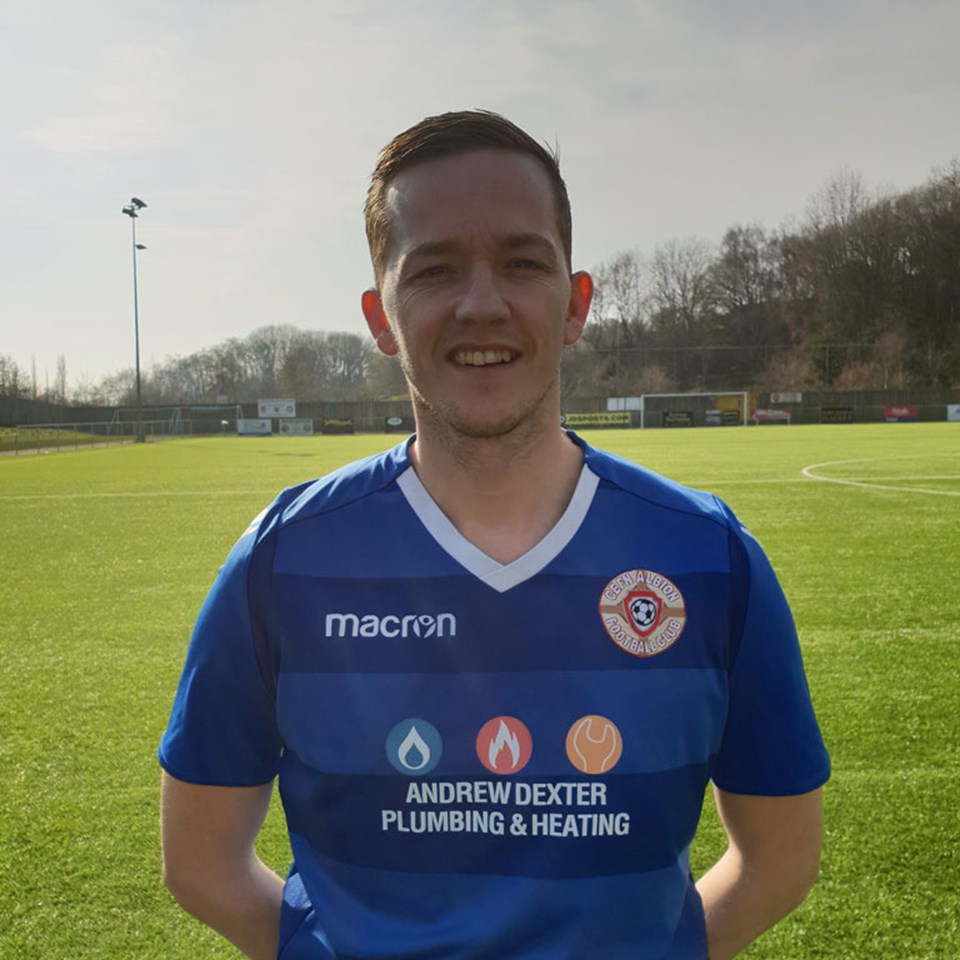 Paul Griffiths is Cefn Albion's club captain, he is an experienced and valued squad member who has been with us since the very beginning.  Having previously represented Lex XI, Llangollen Town & Penycae at Cymru Alliance level 'Munch' has a wealth of experience playing at a good level. He was also captain of FC Cefn and played a major part during their title winning Welsh National League Premier Division side.
At present 'Muncher' is without doubt still one of best centre half's in the area and at times he has single handedly pulled the team through when it's been most needed. With his professionalism and his experience Paul brings so much to the team and club, both on and off the pitch he is a true leader and is highly regarded by our football club for his ability, attitude and commitment. Paul's communication skills are outstanding and he is constantly looking to maintain the confidence of the lads and in particularly the younger group at the Albion which is paramount in keeping the lads together and contribute to their development. We couldn't wish for a better leader and captain for this football club.
Munch would be a good candidate for management in the future.
In adult football my previous clubs prior to joining Cefn Albion include Cefn United, Lex XI, Llangollen Town, F.C Cefn and Penycae (in that order)
The highest level that I have played is Cymru Alliance which is the second tier of Welsh Football. I represented Lex XI, Llangollen Town and Penycae at this level.
I would have to say that winning the Welsh National Premier Division with F.C Cefn (as captain) is my best footballing memory to date. Lifting that league winner's trophy in front of family & friends on a packed Muga bank is something I'm always going to be proud of. It was extra special because coincidentally the last time it was won by a team from the Cefn was when my old man Alan Davies was lifting it for Cefn Albion back in the 80s. It's a good feeling to know that he's not the only one in the family to have had his hands on that trophy.
After having multiple cartilage operations on my right knee I could quite easily say this but my worst footballing memory but it has to be the collapse of F.C Cefn which is top of the list. After winning the league title, that very same year the club made the difficult decision to fold which was a massive shame for everyone in the community. We were left with no football team for the local lads meaning lots of lads had to find new clubs outside of the village.
This is probably the most difficult question to answer because I've played with a few great players, but if I was to narrow it down to one player then I would have to say James Jones. Coming through as a youngster I was fortunate to play alongside Jamesy for a number of years and learnt a lot from the way he conducts himself and plays the game (get him re-signed). I'd also like to mention Craig 'Chinny' Hughes who I formed a great partnership with during my time at Lex playing in the Cymru Alliance and of course there is Oli Davies who has been a class act for years and will always get you 20+ goals. At present I'm really enjoying playing alongside Nathan 'Twinny' Williams for the Albion, fantastic ability, great attitude and captain material for the future.
I have the upmost respect for all my mangers over the years (it's a thankless task) and i have been fortunate to play under some great lads, but In terms of the managers who I feel I have learnt the most from, then I would have to say Gareth 'Rhysy' Roberts during my time at Lex XI and Paul 'Doddy' Dodd during my time at Penycae. Both these coaches/managers are quite similar in the way that they work, like myself they are both winners, they had the complete respect of every player and their training sessions were the best i have had. My fitness levels were at their peak when I was being coached by these two and over the years (to this day) whenever I have taken any warm ups or training I always find myself using drills which i learnt from these two.
I always enjoy returning to grounds where I have previously played in the past so visiting the Riverside (Penycae), Tower fields (Llangollen) and Stansty (Lex) is always at the top of my list. Over the years and during my time at different clubs I have made some great friends so when visiting it's always good to have a catch up with everyone. I'm also looking forward to visiting Clywedog Park (Brickfield Rangers) this season, I'm hearing some great things coming from the Brickie camp.
I could name most of the senior players as best trainiers because to be fair they all turn up, work hard and and set a good example during sessions. But the ones who stand out for me is the twins Alex and Nathan. I couldn't split these two, they are both 'equally' good athletes and always put the work in during training. They get involved with leading sessions which is good to see. Oli Davies always works hard and is very vocal in training which is good for the younger lads.
Unfortunately as captain I don't really want to single anybody out but we do have a few lads who need a kick up the a** and it's mainly the younger lads. However, It's the lads who don't show up often enough who are the ones who should be named and shamed because although the fitness of some of the younger lads is poor at least they turn up.
As a born and bread Cefner I would have to say that the most exciting fixtures are the ones versus the surrounding villages. Local Derbies against teams such as Acrefair, Chirk, Llangollen, Penycae, Rhos, are the ones that excite me most.