2019/2020 first team home kit sponsors announced
Posted by administrator on 07 July 2019

We are delighted to announce that Hair by Dawn Louise and Matts barber shop will be the new sponsors of the first team home kit for 2019/2020. The chosen kit for the new season will be Macron's Alhena shirt (https://macronstorewrexham.co.uk/alhena-matchday-shirt-adult/) in the familiar Albion Royal and White, it is a new product released for 2019.

Hair by Dawn Louise will become our new front of shirt sponsor and Mathew and Adam Bottomley of Matt's Barber Shop will become our back of shirt sponsor. Both are local business and we thank them both immensely for their contributions and support heading into the new season. We are extremely pleased to get both business on board and they are now very much part of the Cefn Albion family.
Over the coming weeks our website will be updated to reflect both contributions but here is some information about both.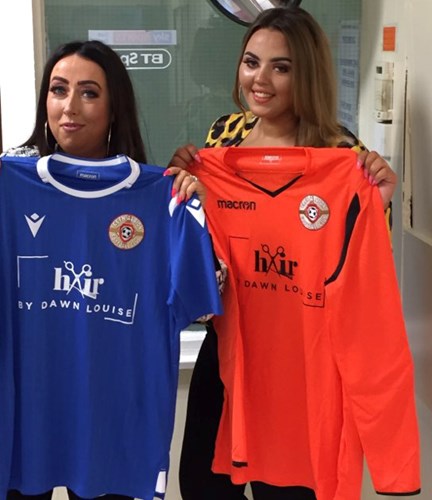 HAIR BY DAWN LOUISE

Dawn runs a busy hairdressing business in Cefn Mawr and has many years of experience in all aspects of hairdressing and specialises in hair extensions. If you want a reliable, professional and reasonable price hair colour/style then Hair by dawn louise is your salon.
Also, in the near future she will be offering training courses in all aspects of hair.
Dawn also has Danni Gough working for her who is a newly qualified stylist who I have trained over the last 2 years.
Contact Number - 07488240169

Opening hours
Monday: – Closed
Tuesday: 9:30 - 17:30
Wednesday: 9:30 - 17:30
Thursday: 11:00 - 20:00
Friday: 9:30 - 17:30
Saturday: 9:00 – 16:00
Sunday - Closed
MATT'S BARBER SHOP

Brothers Matt and Adam Bottomley run this unique shop and they have over 28years experience in the barbering industry. Matt's barbershop provides a bespoke and very high-quality service that they are proud of.
Prices are super reasonable so please give the lads a call on 01978 812000. "Brothers Adam and Matt providing essential work on ya barnet"
Monday: – Closed
Tuesday: 9:00 - 19:00
Wednesday: 9:00 - 19:00
Thursday: 9:00 - 19:00
Friday: 9:00 - 19:00
Saturday: 9:00 – 13:00
Sunday - Closed

#UPTHEALBION
#TOGETHER
#HAIRBYDAWNLOUISE
#MATTSBARBERSHOP