FA Cup Golden Goal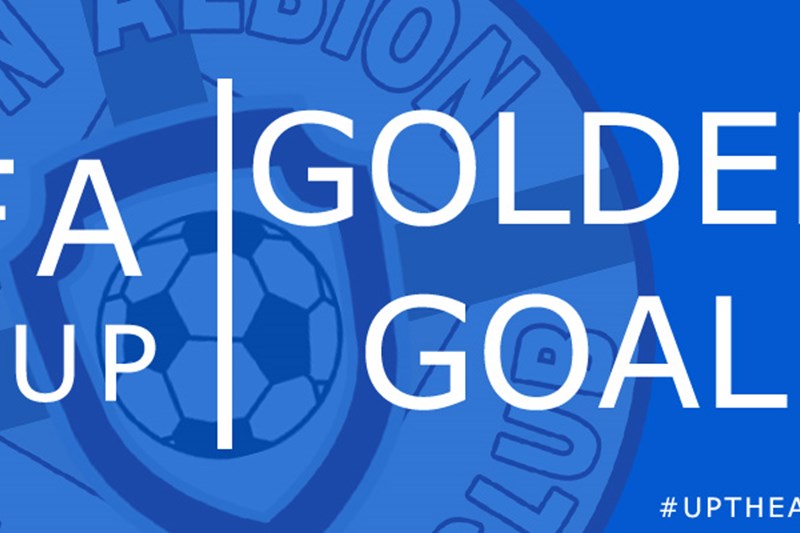 This season, instead of the usual football envelope competition we will be holding an FA Cup Golden Goal draw which could net the lucky winner a massive £450 Jackpot.
The rules are simple…
From now until the week before the FA Cup final 90 players will each pay £10 which will enter them into the big draw to be given a number from 1-90.
Once we have our 90 entrants, our committee will meet at the Cefn Mawr community Social Club and use the automatic bingo machine to randomly draw you out a lucky number.
We will record everyone's number and release the details on our official website (www.cefnalbion.co.uk) and across our social media platforms.
Once all entrants have been randomly issued a number, if the first FA Cup Goal is scored in the minute that matches your number then you will scoop the £450 jackpot.
Terms and conditions
Entrants can pay the £10 entry fee in instalments but the full amount must be paid by the 12th May (1 week before FA Cup final day). Please contact Haydn Evans(Chairman), Dean Morris(secretary), Tom Owens (Treasurer) or Kev Griff (committee)
If full payment is incomplete by 12th May you will be contacted and given an opportunity to pay the outstanding amount. Failure to pay will result in the number being auctioned off on the 19th May.
If we have not sold the entire 90 numbers then the remaining will go on auction at the Cefn Mawr Community Social Club on the day of the FA Cup final.
If the final ends 0-0 after 90 minutes then the automatic bingo machine will be used to randomly draw the winning number
If you are drawn the number 1 you will also have 0-1
If you are drawn the number 45 you will also have any additional added minutes
If you are drawn the number 90 you will also have any additional added minutes
The minute stated by the BBC will be the conclusive minute