4 year Old Sophia Morris get the All Clear
Posted by administrator on 27 August 2020

Out of all of the posts that we have shared from this website and social media over the years this one is by far the best.
We are absolutely ecstatic to announce that after a long brave battle 4-year-old Sophia Morris, daughter of our hardworking secretary Dean Morris has today been given the ALL CLEAR from Cancer!!
Throughout the entirety of her treatment, Sophia has tackled everything that has been thrown at her without a whimper, not one moan despite all she faced! The same goes for her sister Sienna, immediate family and friends, and of course her amazing parents Nia Evans and Dean who has continued to be fully committed to his role as secretary of Cefn Albion!
Despite everything that they have endured as a family Deano has continued to dedicate to his role at Cefn Albion which speaks volumes about him as a person. We are really thankful and something we never expected!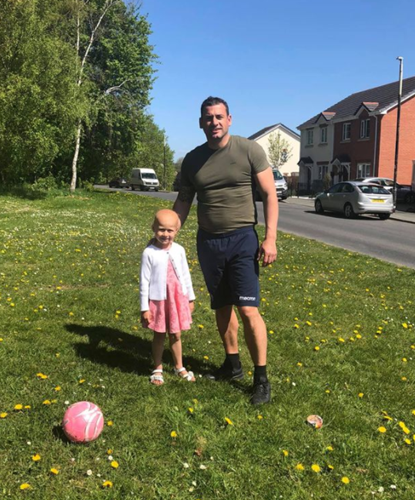 pictured: 4-year-old Sophia Morris with her dad Dean Morris (Cefn Albion secretary) 
We can assure you that once things settle with COVID-19 this football club and everyone involved will be raising as much money as possible to give Sophia and the rest of the family something they will never forget!
The news today is simply amazing! Well done Sophia!
#ONLYONESOPHIAMORRIS