Albion & DZ Family Halloween party 25/10/19
Posted by administrator on 23 September 2019

We recently announced that we would be joining forces with local dance academy 'Dance Zone' in order to joint host many pre-planned events to help raise vital funds for both clubs as well as chosen charities.
We are excited to announce that this Halloween Cefn Albion Football Club and Dance Zone Academy will be hosting a joint family fancy dress Halloween party which is scheduled for Friday 25th October at the Cefn Mawr Community Social club (the legion).
The event will offer the ideal opportunity for all the family including your little ones to get together, get dressed up and have a fun filled evening with friends and family. Doors will be open from 19:00 and will be open until late, there will also be prizes awarded for the best Halloween costume in Girl, Boy and adult categories.
Tickets are on sale as of now and can be ordered and collected from one of our hardworking fundraising team of Tom, kev and vaughny or from Dance instructors Emma and Sian. Tickets are really cheap and can be purchased at £3 per adult and £1.50 per child.
The big room in the legion holds around 175-200 guests and If past years are used as an indicator it has always been a sell out so if you are interested in having a good night out with the family to celebrate Halloween 2019 then we would advise to get your tickets early to save any disappointment. If you are interested there are many ways that you can contact us to order your tickets e.g. in person, telephone or via social media, we will be happy to help in any way we can.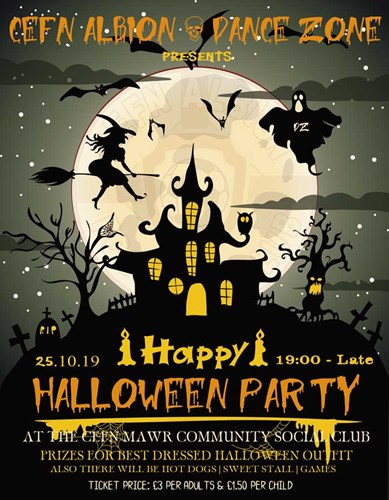 We hope to see as many people connected to the football club and Dance Zone academy down the CMCSC on Friday 25th October supporting this fantastic community event.
Thank you, Cefn Albion Football Club & Dance Zone
#TOGETHER
#UPTHEALBION
#COMMUNITY
#CEFNMAWR