Albion extend Stay at The Rock For 2020/21
Posted by administrator on 08 August 2020

We are delighted and extremely pleased to announce that following successful talks between the committee of Cefn Albion and the Cefn Druids AFC chairman Des Williams, a new agreement has been made to further extend Albion's stay at the Rock Stadium in Cefn Mawr. The arrangement means that Cefn Albion FC will continue to use the impressive facility for all the 2020/21 tier 3 North East Wales league season and cup competition fixtures. 
The Rock, which hosted the 2019 Welsh Cup final, satisfies all of the extremely high standards that the FAW have set in the new Tier 3 Ground criteria regulations, It goes without saying that this latest agreement is arguably the most important one to date as it enables us to qualify and represent at a level where we feel that we truly belong. 
We are really thankful to our friends at the Rock and Des for assisting us with the application process which now means that our little village of Cefn Mawr has two football clubs operating within the top three levels of the restructured FAW pyramid. It's an impressive achievement and something that our fantastic community should be proud of. It is really pleasing that Druids and Des continue to fully support our values and appreciate the importance of keeping football within the community healthy. This is huge news for Cefn Albion Football Club and local football! 
More about the Albion and Druids connection 
From week to week, the The Rock (stadium), home of Cefn Druids AFC hosts fixtures in the Cymru Premier, wales' top footballing tier. Since its grand opening in 2010 we have witnessed the state-of-the-art facility become the stage for countless domestic cup finals and even hosting welsh women and youth international fixtures. In addition, since the arrival of the 100m x 64m FIFA 1Star artificial 3G pitch, which was officially opened with a friendly fixture against National league outfit Wrexham AFC, it has become the central hub for many local football clubs and schools within the community and across Wrexham in North Wales.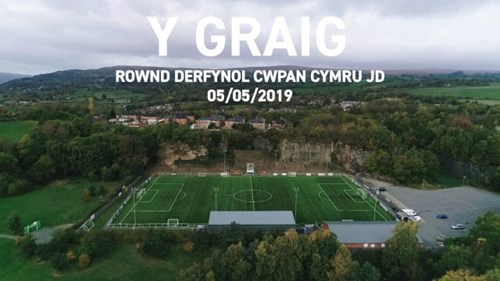 Picture Source: http://www.s4c.cymru/
In June 2017, following successful talks between representatives from both clubs, it was announced that we would form an official working partnership with our Cefn based neighbours with the main focus of growing stronger links between two local football clubs and also between the people within the community of Cefn Mawr. For an ambitious football club like us, this was fantastic and very welcoming news, not only had we formed an important working relationship with a well-established Cymru Premier league football club, it was also agreed that in addition to winter training we would initially play nine of our home Welsh Nation League Premier Division fixtures at the Rock. 
In terms of our current level, the facilities that the complex has to offer are without doubt the best around so the players are fortunate to receive such a fantastic opportunity to play their week in week out. However, we appreciate the time, effort and commitment that every player shows towards our football club, which is why we along with the Druids worked hard to make things happen. This will also benefit management who have better working surroundings and our supporters who can be sheltered from the weather, grab a bite to eat and get drinks etc whilst attending home games. Since the initial partnership was agreed, we feel that both clubs have benefited in some way and more importantly there has been various local charities and establishments around the village that have also benefited as together we have raised money that has kindly been donated to help causes. Due to the early success of the partnership, the agreement was further extended mid-way through the season which meant that we would complete the remaining fixtures of 2017/18 season there which was brilliant news because performances on the field went from strength to strength and the surroundings at 'The Rock' really began to feel like home for the Albion. We have remained at the Rock since and we feel that it has been a huge success bringing two football clubs and of course our fantastic community closer.   
Cefn Albion is a voluntary Football Club that currently has two adult football teams, a first and a reserve team which now compete in the Tier 3 North East Wales League and the Tier 3 North East Wales Reserve league respectively. Our ethos and something that we work extremely hard to develop is giving local lads from within the community of Cefn Mawr an opportunity to represent the village at a decent level, especially the youngsters making the transition from youth football. The new restructure, especially the new reserve set up improves the standards immensely.    
At present, both of our squads mainly consist of players who live within the village or in villages within very close proximity. This is something that we are extremely proud of because a) we are hitting our goals by giving local talent their opportunity and b) it brings a special togetherness within the club that will be hard to replicate anywhere else. This does not mean that we do not encourage players from outside the area to come and get involved with the project, there are current players who don't hail from the village and they have been welcomed into the Cefn family and been made to feel very much part of what we are trying to do here. We make all players very welcome! 
Since the football club formed in the summer of June 2014, we have achieved a lot of success in a very short space of time and this has been down to hard work both on and off the football pitch, we are the current Welsh Trophy holders having convincingly defeated Pontardawe Town 4-0 to lift the iconic ammeter cup down at Aberystwyth in 2019!! We hope that hard work off the pitch, such as securing Albion's fixtures at the Rock and pumping every penny we raise back into the club will encourage more players to come and get involved with what we are trying to achieve at Cefn Albion football club so that we can continue progressing. The club continues to work hard to ensure that we keep moving in the right direction. 
Finally, we would like to say a big thank you to our chairman Haydn Evans, secretary Dean Morris and Cefn Druids Chairman Des Williams and their respective teams for all their hard work, commitment and dedication to ensure that this important agreement was completed. Without doubt, the decision continues to bring two local Cefn Mawr based football clubs and its community much closer together. A clear objective that was established back it 2017. 
We would like to wish Des and his team all the best with all the exciting plans at the Rock and wish Cefn Druids all the very best on the pitch for the new 2020/21 season. 
#ONECOMMUNITY
#TOGETHER
#CEFNMAWR
#FUTURE
#UPTHEALBION
#GROUNDSHARE