Cefn Albion raise thousands for Sophia and other charities
Posted by administrator on 31 May 2021

A huge well done to everyone who attended this year's annual Cefn Albion quiz, another amazing effort by everyone on what was a glorious bank holiday weekend!
We are delighted to announce that we managed to raise a whopping £1912 which will be donated towards Sophia Morris, Click Sargent UK, Alderhey, and Wrexham Maelor Children's ward. A huge thank you to Nick Jones for organising and of course all those who attended the event. We would like to congratulate Wacky, Jusso and the Twins Alex and Nathan who won the competition! Well done lads! A big thank you to all those who donated prizes for the raffle! 
A big thank you to Neco Williams and his family for sorting the match-worn sign football shirts which auctioned for a combined total of £1,410. A big thank you to the anonymous bidder on the LFC top and Daniel Ansloos from the cons club for the Welsh top. Thank you for your contributions both, very much appreciated! 
The Sophia Morris golden goal competition organised by Tom, Kev, and Foulkes made £200 which will be donated to Sophia Morris 3 peak challenge fund! #ThankYou
We would also like to take this opportunity to announce that the football club and all those connected to it have managed to raise 4,000 for 5 year old Sophia Morris who was cleared of cancer recently! Covid has limited our opportunities to raise money through various events and we haven't quite hit the target we anticipated. Nevertheless, given the circumstances, this is a good amount that was handed over to Dean, Nia, Sienna and Sophia during yesterday's quiz! Everyone should be extremely proud of their contributions and we have been able to give the Morris family something little so they can enjoy some special time together and make memories!
Lots of people to thank but a special mention to our main fundraising team Haydn Evans Jamie Foulkes Kev Griff Tom Owens!! Thanks, lads!
I'm very sure that the fundraising will continue, that's what we do at the Albion – we use our platform to do good things for the community and beyond!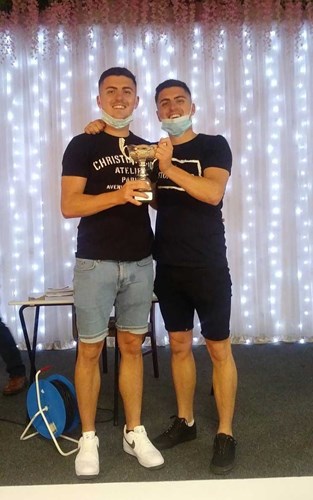 Alex and Nathan Williams who were part of the winning quiz team!
#UPTHEALBION
#TOGETHER
#COMMUNITYCLUB