Fancy dress bike ride to raise defibrillator funds
Posted by administrator on 20 July 2021
On Sunday 29th August 2021, people connected to Cefn Albion football club will participate in a fun-filled charity bike ride to raise money that will be used to purchase a defibrillator for the football club and the Cefn Mawr Community. 
In the wake of Christian Eriksen's collapse at Euro 2020 sales of defibrillators have risen sharply which comes as no surprise since the electric shock from the life-saving device was crucial to his survival. Denmark's team doctor, Morten Boesen, confirmed that the 29-year-old had gone into cardiac arrest on the pitch and was brought back through a combination of CPR – the manual cardiopulmonary resuscitation that involves repeated pushing down on the chest – and an electric shock from a defibrillator.
This can happen to anyone at any time which is why we are determined to raise enough funds to purchase a defib that can be utilised by the football club, the community and beyond. This is a really important device to have available and can mean the difference between life and death. 
With the sponsored bike ride not far away, we hope everyone who is getting involved has enough time to sort out his or her fancy-dress outfits, bikes and sponsorship. This year there is no theme set and you can choose any fancy-dress outfit you like. We understand that some people will be unable to participate this year, but this does not mean that you can't gather some sponsorship that can be added to the final total, it will really help us raise as much money for two fantastic causes. If you require a sponsor form then please contact Nick Jones ASAP.
The bike ride will take place on Sunday 29th august and start from Cefn Mawr Community Social Club at 12 o'clock. We will then proceed to the Queens hotel for light refreshment. From the Queens will continue our challenge towards the Telford. After a few more refreshments we will continue our long uphill journey towards the Duke of Wellington followed by the eagles, Oddfellows, Delph bar and Hampden arms. The last leg of our journey is a welcome descent to the jolly masons and Hollybush we make the long trek to the Newbridge arms and then finally back to base the Cefn legion. We really hope that people dig deep and we make a great amount of money towards a fantastic cause.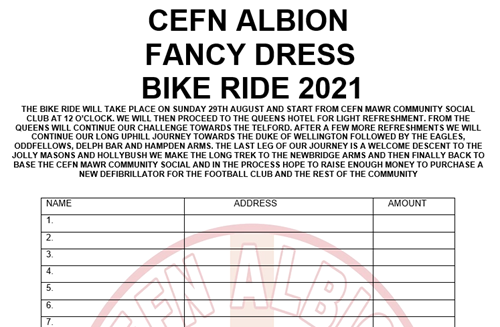 Can we please urge everyone connected to the football club to LIKE and SHARE this post so we can really get the word out there and gather momentum. There is only one winner and that is the community.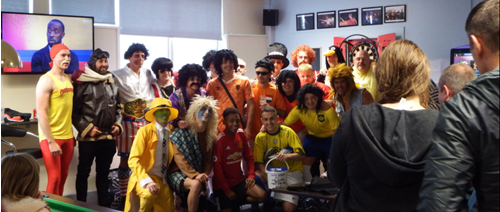 Hopefully #TOGETHER we can make a difference! 
#UPTHEALBION
#CHARITYBIKERIDE
#FANCYDRESS