James Wilson Contractors Ltd announced as the new Cefn Albion club sponsor
Posted by administrator on 27 August 2020
Cefn Albion football club is extremely delighted to announce that we have agreed a significant three-year sponsorship deal with James Wilson of J Wilson Contractors Ltd, a well-established local family run business that specialises in all types of civil engineering and groundworks including trial hole investigations, utility diversions, installation of new infrastructure including new site supplies, construction of kiosk/ substation bases and project management. The sponsorship agreement is undoubtedly the biggest in the club's short history and it's a very welcome boost as we prepare to compete in the new Ardal Northern Tier 3 league.
Following a number of positive discussions between the committee of Cefn Albion, James, and his wife Nicola, it was apparent that everyone shared one common interest which is to help and support the local community however we can. These successful discussions quickly led to the decision that J Wilson Contractors Ltd will become the main sponsor of Cefn Albion football club for the next 3 seasons, with immediate effect. After confirming the agreement James said
"My wife Nicola, who is integral to the business, and I both want to make sure that the company can benefit the local area wherever possible. After speaking with Cefn Albion's chairman Haydn and first-team manager Sean, it was very clear that Cefn Albion fitted the profile and we are delighted to be able to get involved with and support a football club which has the community at the forefront of everything they do. The community spirit within the club is clear and it's brilliant to see. I already know many people who are involved with the club so I'm looking forward to working with some old faces and meeting many new ones through this sponsorship agreement."
Over the past 6 years, Cefn Albion has been able to operate thanks to generous sponsorship contributions from within the local community, and without this support, which is still unbelievable to this very day, we simply wouldn't be where we are now. The JWC sponsorship news is very exciting for all concerned and for those who represent us and follow the club you have every right to feel optimistic. Having our fantastic community and J Wilson Contractors Ltd supporting the club will guarantee a brighter future moving forward. The costs associated with the successful running of a football club continue to rise exponentially and with the first team now members of the Ardal North East league we expect them to travel over 500 miles throughout the course of the season, which will incur expensive coach fees amongst other additional costs. These are often important one of many overheads that people will not consider but we have to factor them in.
Since our inception in 2014, despite copious amounts of success and rapid rise through the various Welsh footballing tiers, Cefn Albion football club has always maintained its community roots with a large percentage of players, management, and volunteers all hailing from Cefn Mawr and surrounding communities. Our ethos, which is something that we work extremely hard to maintain and develop, is to provide a well organised infrastructure for local people (and beyond) to come and get involved and represent our fantastic village Cefn Mawr at a respectable level. We put emphasis on supporting the youngsters making the transition from youth football to adults. We consider ourselves more than just a football club and whenever we can use our platform to support local causes and charities we always willingly do so. Over the years we have built up strong relations with many local causes and through various fundraising activities donated thousands of pounds to both small and large charities who often share a connection to our club in some way. We love nothing better than helping others in any way we can.
During the initial meeting with James, he expressed a desire for his company to become involved with a local initiative that has firm community beliefs, promotes opportunity, and is committed to the development of local people. We knew that this is everything that we stand for and once we provided James with some additional background it was clear that Cefn Albion and J Wilson Contractors share and support the same views. Similarly to Cefn, J Wilson Contractors only started in 2013 but since James and Nicola launched the business they have experienced rapid growth and currently employ over 30 people who are all local to the Wrexham and Denbighshire areas.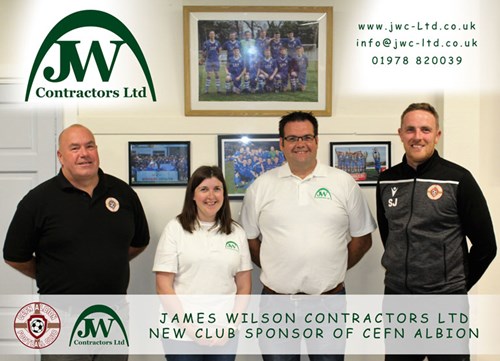 Pictured(left to right): Haydn Evans (CAFC Chairman), Nicola Wilson (JW Contractors Ltd), James Wilson (JW Contractors), Sean Jones (CAFC First team Manger)
So who are J Wilson Contractors Ltd?
J. Wilson Contractors Ltd is a well-established family run business offering their clients a tailored utility service aimed to save them time and money. They have a dedicated team with over 15 years experience of completing in-depth trial hole surveys, both on and off-site, to investigate and report on existing utility apparatus including water, LP and HP gas, HV and LV electric and telecommunications. They also have vast experience in the installation of new utility apparatus, both commercial and domestic, including water, gas, electricity, and telecommunications. Their team operates across the UK and is qualified to NRASWA standards.
To read more about J Wilson Contractors, please visit their website jwc-ltd.co.uk/about. They can also be found on Facebook and LinkedIn. We are urging all our followers to please LIKE and SHARE their page and show our new club sponsor some support to make them feel very welcome to the Cefn Albion family.
To launch the new partnership, ahead of the 2020/21 Ardal North season two brand new home and away kits have been ordered with Macron and the J Wilson Contractors branding will feature on the front. In addition, as part of the agreement, we are pleased to confirm that we will also receive additional funding which will be invested into the necessary areas in order to help us operate and move forward how we envisage. Cefn Albion does not pay any of our players and operates entirely on a voluntary basis so It's important that we work hard to provide alternative incentives through new kits, training gear, tracksuits, the Rock, etc. It's our responsibility to ensure that we build a club that those who represent us can be proud of. With backing from J Wilson Contractors, this contributes massively to that goal.
Over the coming weeks, our online presence e.g. website and social media channels will begin to incorporate J Wilson Contractors branding and we will also be releasing internal reaction to the news as well information and images showing the new kits. The agreement will also mean that there will be good news for Cefn Albion Youth.

A big thank you to James and Nicola Wilson for their support and of course our chairman Haydn Evans and first-team manager Sean Jones who represented the football club during the discussions.
There will be additional news posted from both our social media accounts and the youth one. Watch this space.
#UPTHEALBION
#TOGETHER
#COMMUNITYCLUB
#JWILSONCONTRACTORS
#ONTHEUP
#FUTURE