Marblehead Johnson Tribute in aid of Alder hey and the Christie Hospital
Posted by administrator on 12 April 2019

Cefn Albion Football club are pleased to announce that Marblehead Johnson will once again be bringing their Ultimate Tribute to the classic UK Britpop era to the Cefn Mawr Community Social Club on Friday June 7th, 2019.
We can confirm that the proceeds taken from the event will be kindly donated to Liverpool's Alder hey Children's and Manchester's the Christie Cancer treatment Hospitals, two hospitals that are very close to the hearts of people that are connected to our football club and the community in general. Both hospitals provide world class specialist treatment and care and without the fantastic services that they provide things might have been different. To show our appreciation we want to give something back, so we are urging the community to respond and show up in your numbers (as you always do) to help us raise a good amount of money to donate to two worthy causes.
So, who are Marblehead Johnson?
Named after the classic Bluetones Britpop anthem, Marblehead Johnson pay tribute to the British Brit pop music scene, bringing the recreated Brit pop hits up-to-date in a powerful combination of passion and quality akin to the harder-hitting sound that the bands produced in their live shows.
Playing songs from Blur, The Bluetones, Paul Weller, The Verve, Ocean Colour Scene, Supergrass, Pulp and, of course, Oasis, glory in the anthems that brought British alternative rock into the mainstream with a tip and a wink to the backbone of the movement from the likes of The Who, The Kinks and The Jam.
Marblehead Johnson are a five-piece, 100% live band performing all across the UK including support slots for Razorlight, The Icicle Works, SPACE and walker The Bluetones very own Mark Morris where he dedicated his song 'Marblehead Johnson' to the band.
We have had the band play at the CMCSC a couple of times now and they provide an excellent show. With tickets on sale at just £5, You don't want to miss this one, tickets are selling fast so please get them early. Please contact Kev, Tom or Haydn for more details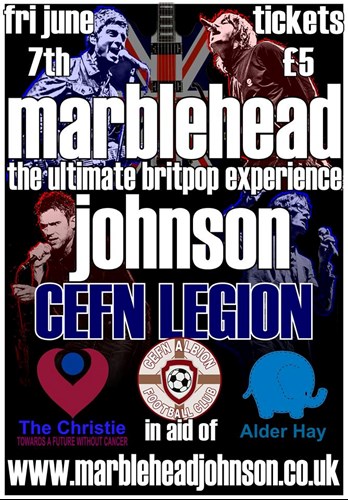 Can we ask everyone to please LIKE and SHARE.
#UPTHEALBION
#TOGETHER
#90SCLASSICS