Fancy dress bike ride in aid Alder Hey & British Heart Foundation
Posted by administrator on 07 August 2019

On Sunday 25th August 2019, people connected to Cefn Albion football club will participate in a fun filled charity bike ride to raise money for Alder Hey and the British Heart Foundation. In some way or another many of us would have been affected or know someone who has required care from these two amazing services, so we really want to encourage everyone to make a big effort again this year.
Everyone in the community is will be aware of brave 4-year-old boy Leo Minors who was diagnosed with acute lymphoblastic leukaeumia in February. After months of heart ache and treatments for Leo and his family he is now in remission, but he will keep having to have treatment over the next three years at Alder hey, hence why this year it has been a charity that we have supported and will continue to support. We have already raised £1350 for Leo and Alder Hey during the Marblehead Johnson Gig. If you would like to donate to the Leo Minors Alder Hey Children's Charity go fund me please head over to https://www.gofundme.com/f/leo-minors-for-alder-hey-children039s-charity?member=1932880 and read his story. Every little helps!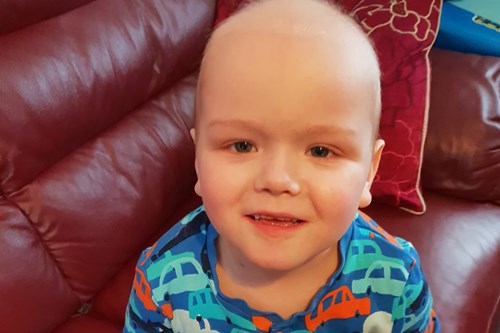 pictured: 4 year-old Leo Minors
With the sponsored bike ride a not far away, we hope everyone who is getting involved enough time to sort out his or her fancy-dress outfits, bikes and sponsorship. This year there is no theme set and you can choose any fancy-dress outfit you like.
We understand that some people will be unable to participate this year, but this does not mean that you can't gather some sponsorship that can be added to the final total, it will really help us raise as much money for two fantastic causes. If you require a sponsor form then please contact Nick Jones or Haydn Evans ASAP.
As usual, the group of riders will start from Cefn Legion at 11 o'clock and will proceed to the Queens Hotel in Cefn Mawr and along the canal into Llangollen. After a few refreshments in the town and visiting a number of pubs, we will continue our journey towards the Chain Bridge Hotel and then the take the last leg of our journey on to the Britannia inn. After a short stay at the Brit we will proceed back towards Cefn Mawr calling in the sun Trevor and the Telford along the home stretch. We hope that people dig deep and we make a great amount of money towards a fantastic cause.
Can we please urge everyone connected to the football club to LIKE and SHARE this post so we can really get the word out there and gather momentum. There is only one winner and that is the charities we have chosen and the people who require their services.
Hopefully #TOGETHER we can make a difference! Lets do this for LEO
#UPTHEALBION
#CHARITYBIKERIDE
#DOITFORLEO
#BRITISHHEARTFOUNDATION
#FANCYDRESS