Ian Andrews appointed as first team coach
Posted by administrator on 29 May 2019

We are delighted to announce that highly rated local coach Ian Andrews will be joining Cefn Albion football club with immediate affect as we prepare for the 2019/20 season. Ian will be taking up a coaching role alongside first team trio Stephen Davies, Sean Jones and Stephen Lloyd-Jones.
Whether it's someone signing as a player or joining the management or committee, at Cefn Albion we value the importance of ensuring that we bring in the right people who match the club ethos. CAFC believes that Ian Andrews fits this profile and that he possesses all the qualities that will help us move forward and build for what we believe is a bright future. We are excited that he has agreed to come on board with this exciting new challenge for himself. Here is what Ian had to say regarding the appointment
"I would like to thank Steve 'wacky' Davies and Sean 'micro' Jones for giving me the opportunity to work with them and Cefn Albion FC for the new season. After meeting up with them both and listening to what they want to achieve it gave me the buzz to get back involved with senior football and coaching.
I would like to thank Penycae football club who gave me my first coaching role in senior football, after being involved for 18 years it was an honour to manage the club. It was an up and down couple of seasons, and it was very challenging at times, but I enjoyed my time there. I have had time to relax, recharge my batteries and reflect on my time as manager and I'm now looking forward to a new challenge ahead with Cefn albion.
I am now looking forward to planning and getting ready for pre-season and meeting up with the players, and to work alongside the current management team."
So, who is Ian Andrews and what will the new addition bring to CAFC?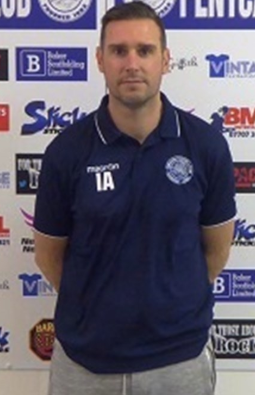 As a player, Ian has experience playing at the very highest level following a spell under Dixie McNeil representing our good friends Cefn Druids in the League of Wales as it was known back then. Ian also has vast experience of playing in Wales' second and third tiers where he had a brief stint at Rhos Aelwyd and also Penycae, his home village club where he had a successful long-term affiliation both as a player and as a coach. During his playing days at Penycae, Ian was part of many successful teams that were built upon a nucleus of local community players who turned up and wore the shirt with pride, something that is really important to Cefn Albion and something that we believe has been a contributing factor to our successes on the field. Ian understands what it takes to be successful and has won honours such the Welsh National League Premier Division title and the Welsh Trophy Cup so we are hoping his experiences and what he has learnt over the years can have a positive impact on the squad moving forward.
Following a heaving involvement in youth coaching where Ian achieved his FAW C coaching license, he took his first steps into management accepting the position as first team manager at his village club Penycae. In his first WNLPD season Ian built up an excellent young exciting young team that was competing and capable of taking points from anyone in what was a difficult division. Unfortunately, these achievements caught the eye of many opposing managers/clubs and many players left the Afoneitha outfit to pursue other opportunities. Despite finding himself with only a handful of players in only his second season in management, Ian worked hard, remained positive and attempted to build a new team focusing on younger players who he believed deserved the chance to develop and test themselves at a decent level. Again, at Cefn Albion giving younger players an opportunity is something we pride ourselves upon, so it was another positive reason to get Ian on board.
In youth football Ian has also enjoyed much success winning the league and cup double on two occasions. Ian will remain in his current position as a coach with Cefn Druids academy working with the under thirteen section. He hopes to undertake the FAW B license in the very near future which is great news for all concerned.
Welcome to Cefn Albion Football Club Ian – we wish you all the best in your new role and most importantly we hope you enjoy your time with us.