Its ALL about Sophia
Posted by administrator on 09 October 2020

Today our Chairman Haydn Evans visited Macron to pick up our new kits which have kindly been sponsored by James Wilson Contractors Ltd. Whilst in the store the Macron team handed Haydn a little gift for little Sophia who is the daughter of our secretary, Dean Morris. We have just been sent these pictures of a very happy Sophia supporting the new home kit! 
We have plans to release the new kit official via our social media channels but there is no better way to present a sneak peek of the amazing Sophia showing it off for the very first time. 
A huge thank you to Macron for this lovely gesture that has gone down amazingly well with Sophia and everyone connected to the football club. Also thank you for your hard work producing the new kits which James Wilson has very kindly sponsored amongst many other things for the football club moving forwards!
We simply couldn't wait to release these images.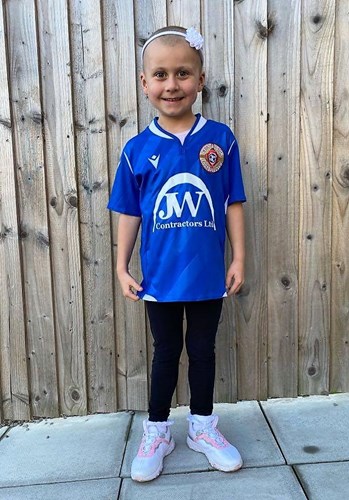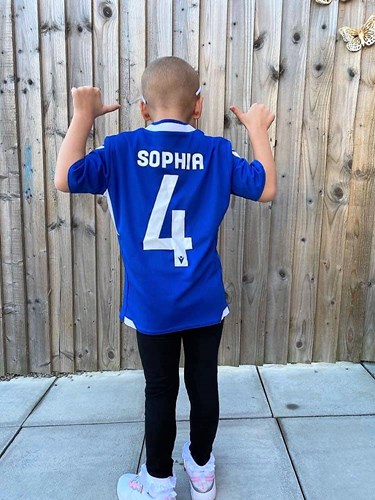 Whilst on the topic of Sophia we want to say a huge thank you to everyone who has shown an interest in the Cefn Albion Bingo competition so far. In addition to a £500 Jackpot, this competition will see everything that is raised all be donated back to Sophia which is why we are urging everyone to get involved. In addition to all those who have dug deep to enter, we would like to give a special mention to the following:
The Williams Family From Cefn Mawr
Kerry Williams and the rest of the Williams got in touch and requested numerous sheets to enter the competition to show their support, not only did they enter the also very kindly donated £100 to Sophia's fund which is really really generous. Only recently they suffered a family tragedy when Darren passed away at such a very young age. Simply amazing and thank you very much for your kindness in what has been such a difficult time for all of your family. 
Dave Jones from Grassroots North Wales
Dave seen our Bingo competition advertised on twitter and got in touch with a message of support. Not only did dave enter the competition he also very kindly donated £40 into Sophia's fund which is another fantastic gesture towards our brave little 4-year-old. A big thank you and thanks for your support. 
You still have until the 24th of October to enter the competition so please do your very best to SHARE, LIKE and ENTER. The aim is to raise as much money as we can for Sophia
A big thank you to everyone so far!
#UPTHEALBION
#TOGETHER
#COMMUNITYCLUB