The majority of the 2018/19 players re-sign for the Albion
Posted by administrator on 25 July 2019

As most clubs will know, especially the ones who don't pay their players, preseason is a difficult time of the year attempting to build squads for the upcoming season. Given that Cefn Albion football club had a very successful 2018/19 season which witnessed us lift the prestigious FAW Trophy and Welsh National League Premier Division League cup we always knew that other clubs would target our very talented players. It happens most seasons if truth be told!
However, at CAFC we are very fortunate to have a loyal core of LOCAL players who despite many tempting offers to go elsewhere have agreed to sign (confirmed in COMET) on as we prepare for the new 2019/20 season. We are delighted that the majority of last season's first and reserves squad have remained loyal and stayed with us, this gives us a real solid base to build from and hopefully it helps us to continue being successful on the pitch. Management are working hard to try and fetch in new players who they believe fit the bill and will improve the team. The pre-season performances of some players who were in the reserves last season have been really encouraging and we have every belief that they will make a big contribution this season! They will be given the opportunity to do so!
We will continue to release new signings (there is a few more) over the coming days/week but we just want to thank everyone of the players for their commitment heading into the season. We are hoping to create more amazing memories and whilst we endeavour to improve the league performances we want to emulate our efforts in the Welsh Cup and FAW Trophy Cup which seen hundreds of supporters travel and get behind the team.
Finally, to those who have decided to leave the football club (both on and off the pitch) we would like to thank you for all your efforts during your time with us and wish you all the very best with your new clubs. We hope that you enjoyed your time with us and have memories you wont forget! We want to make it abundantly clear that we will always encourage players to better themselves and their decision to stay or leave is their decision. 
Below are some images of last season's teams which indicate who has signed and who has left. Player sponsorship will be available and although many have already been reserved/paid we will release a list very soon. It's a really cheap but effective way to get involved with a real community club and at the same time advertise yourself or business across our very active/busy social media platforms and website.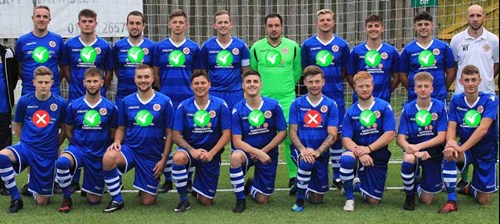 Last seasons first team picture taken during a preseason friendly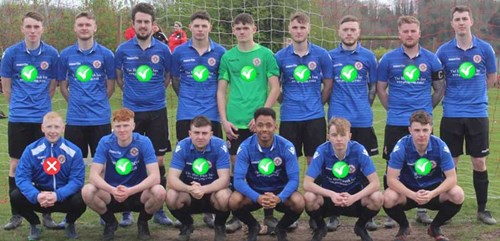 Last seasons reserve team picture taken during a league match against Cefn Rangers
#UPTHEALBION
#TOGETHER
#LOCAL
#YOUTH