Nathan Williams - Defender (CB)
Captain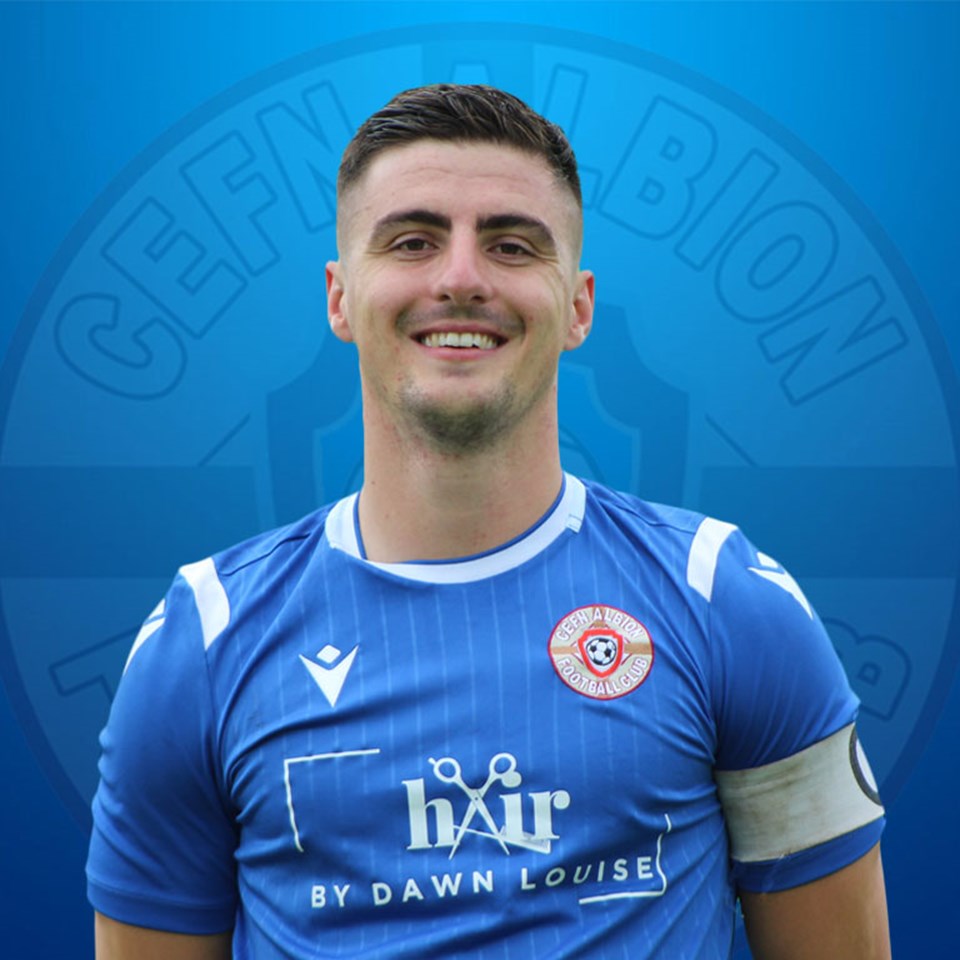 For his generation Nathan Williams demonstrates a maturity in the game that does not reflect his age and although he is already well established he is without doubt one of the best upcoming talents in the area. This season 'Twinny' has been used primarily as a centre half but he also has the ability to step into the middle of midfield, and still prove himself as one of the best in the area. Where ever he gets utilised you can guarantee that he will always give you 100% in every game.
During his youth days Nath represented Chester City and he made the step into senior football at a very young age representing FC Cefn where he was fortunate to play a big part in their WNL Premier Division title winning team. After FC Cefn folded, as expected Nathan went on to at a higher level representing local neighbours Cefn Druids in the Cymru Alliance.
When Albion formed in 2013 to the clubs delight Nathan made the decision 'come home' and through his ability, commitment and attitude he has established himself as a regular starter. Nathan has already stepped in as captain for our first team which indicates the direction he is going. A great talent and easily one off the best in local football.
My previous clubs are Chester FC, FC Cefn, Borras Park Rangers and Cefn Druids
The highest level that I have played is for Chester City's youth team when I just turned seventeen. Whilst paying for Chester they asked me to play in a new positon which was just in front of the back four (CDM), it was different to what I had previously been used to but I believe I played some of my best football to date during this time.
My best footballing memory is playing in a Sunday league semi-final for Cefn Railway against The Swan who at the time were the best team in the area. We were losing 2-1 until Nicky Williams got the equalizer in the last kick of the game. I remember running towards him to celebrate when I seeing the entire side line of Cefners run on the pitch hugging us and lifting us up in the air. It made you feel ten feet tall.
My worst footballing memory was at fifteen years of age when I was invited for a trail with Wales under 16's. This should have been one of my best memories, but I ruined my chances of ever making the squad within the first 30 seconds of playing. It was a training match between the squad with some trailists and they put me on in the second half at right back. From the kick off the ball came to me with about 30 yards of space, I controlled it, then kicked the ball straight into the stands. Nerves got the better of me. The second time i touched the ball I did exactly the same thing. I could see everyone looking at me thinking "Who brought this Idiot?" I was some embarrassed. Didn't do too badly after that but I think it was game over for me within the first crazy minute.
The best player that I have played alongside is Mike Pritchard who currently plays for Cefn Druids. He's so clever on the pitch and with his movement he runs rings round defenders, he has a great touch on him and a good eye for goal. Nice bloke to.
Geoff Williams whilst I was playing at Cefn Druids. Geoff is a great motivator and had the knack to make you feel like you were the best player on the pitch. I also though he was a great man manager, he knew how to deal with different types of players especially young players. He was always prepared and really professional. Miss playing under him.
I always enjoy visiting Pen-Y-Cae. Really nice pitch and set up in general. The best thing about Pen-Y-Cae is they always make you feel welcome and at home there. Great background staff and fans there.
Could name a few in Oli Davies, Paul 'Muncher' Griffiths and my brother Alex etc. But my Favourite is Darnel. Nelly always gives 100%, he always turns up and is generally a great player to have on your team. I've noticed that he listens to instructions given out from both management and players.
When you have thrown up twice in a warm up you would have to take note so I would have to say Callum Vaughn has had some stinkers so far. However, my favourite has got to be the 'Cefn Cafu' aka Jack 'Nudger' Richards. You can guarantee that he always turns up late and when he eventually arrives he looks as if he's just woken up, oh and he is usually downing a bottle of coke on the way there as well. I remember one year we were jogging round the river and Nudge gave up within the first 5 minutes and jogged home. With all this said given that he performs on the pitch I'll let him off.
Chirk AAA at home. There is going to be a massive crowd on the Muga for this one with friendly rivalry. To describe it in a word – REVENGE!